And, suddenly, it's fall. Temperatures fall and I can't think of a better time to bake a bougatsa. Bougatsa is a Greek custard pie with phyllo. Since my last recipe for portokalopita, I got all these comments and questions on how to use phyllo. Actually, there are a few tips to baking better desserts with phyllo – keep on reading to find out.
Now, let's talk about bougatsa, the 8th wonder of baking that us Greeks so generously shared with the rest of humanity. I can't really decide why it's such a great recipe. Is it because it's sweet? Maybe the secret lies in its rich, velvety custard filling. Or is it the thin and extra crispy buttered phyllo, graciously topped with icing sugar and cinnamon? Seriously, there's so much going on inside a bougatsa that you can only understand how great this pastry is when you get the first bite.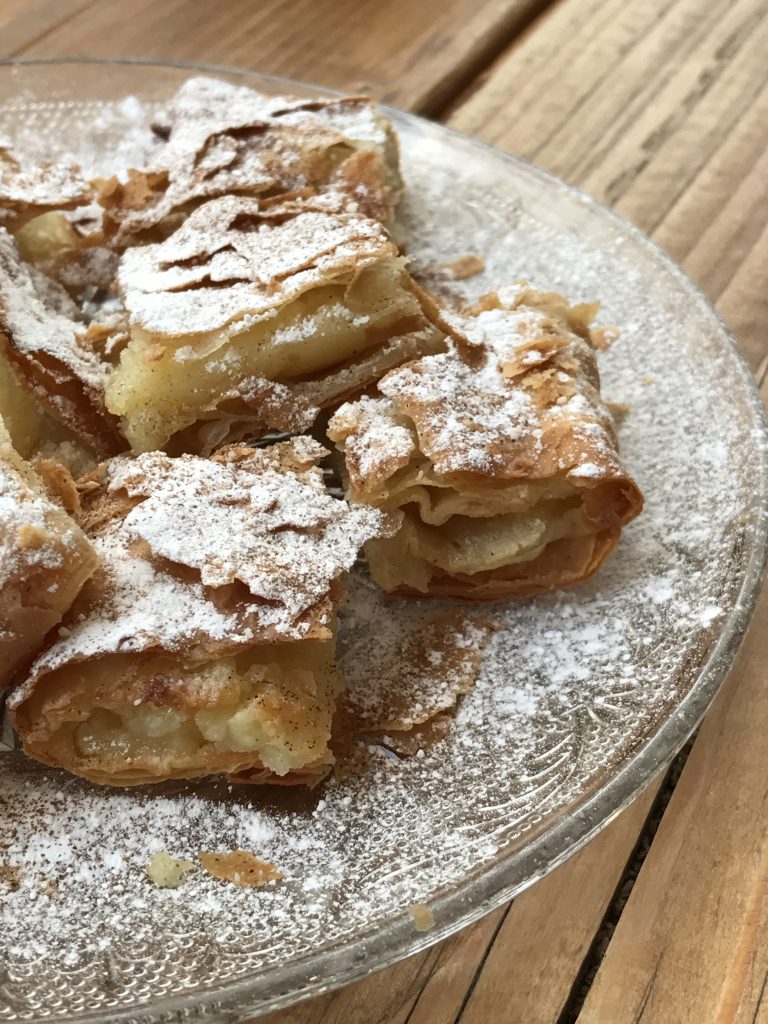 The first rule for perfect bougatsa is a baking staple, really. Use good quality ingredients. The more local, the better. Full fat farm-fresh milk and butter from grass-fed cows are my go-to ingredients. I never settle for mediocre ingredients when it comes to baking – besides, desserts are scarce a for me these days thanks to my new diet (I'll talk to you about it in another post). You can also support your local economy this way, so they can produce more good stuff for you and the cycle keeps on going.
The most important ingredient of this recipe is phyllo. In Thessaloniki, the motherland of this pastry, you can't make bougatsa without making your own phyllo. As a matter of fact, every avid baker in northern Greece makes their phyllo from scratch. I have huge respect for every home cook who puts themselves in all this fuss.
However, we have to be realistic and give ourselves a break. I mean, we shouldn't blame a cook who wants to enjoy a good bougatsa without making a mess of their kitchen or, even worse, fail in their first attempt. This is why I use store bought phyllo. In Greek markets, you can find fresh phyllo that you can use straight away. If you're not lucky enough to find fresh phyllo, you will get a frozen one. Defrost it in the fridge and not at room temperature or it will get gummy. The most tricky part about phyllo is to keep it moist while you're working with it. Keep the sheets covered with plastic wrap or a lightly damp towel while you're working. If a sheet rips, just put it back together and keep working.
I also made a video with my bougatsa recipe. It's subtitled in English with full instructions and detailed shots of every step. Enjoy!
Print recipe
Bougatsa (Greek Custard Cream Pie with Phyllo)
Bougatsa is a traditional cream-filled phyllo pastry. The cream is a rich custard wrapped in crispy phyllo. Enjoy this pastry for breakfast or along with your cup of coffee.
Ingredients
4

cups

cups full fat milk

1

cup

fine semolina

1

cup

sugar

1

package phyllo dough

10 sheets

3-4

tbsp

butter melted

1

tsp

vanilla extract

icing sugar
Instructions
Preheat the oven to 350 F / 180 C.

Add milk, semolina and sugar in a pan on medium heat. Stir with a wooden spoon until mixture is creamy and thick. Remove from heat. Add 1 tablespoon melted butter and vanilla extract. Stir well. Put the pan aside.

Grease a 10x5 inches baking pan (pan should be a tad smaller than your phyllo sheets). Unroll the first phyllo sheet and lay it in the the pan, with the edges overhanging. Brush it with melted butter. Repeat process for the next four phyllo sheets. Gently pour the custard in the pan. Spread it evenly over the phyllo with a spatula. Trim the rest sheets of phyllo into the shape of the pan. Top custard with a phyllo and brush it with melted butter. Repeat process with the rest of phyllo sheets. Fold the overhanging edges towards the centre and brush with more melted butter.

Bake for 25 minutes until golden and crispy.

Allow to cool for 20 minutes before serving. Cut bougatsa in slices and generously dust each slice.

Kali orexi!
Video