It's definitely the most Google'd salad from Greek cuisine! Super fresh, hearty, colorful, packed with flavor, you're definitely gonna love this Greek salad recipe. Let me just say that the original version does not include lettuce or any kind of dressing. Greek salad is best enjoyed during the summer when all veg (tomato, cucumber) are in season, juicy and all. Now, the most important ingredient is feta cheese. The real deal should be firm, not too salty, with rich taste and easily chewed.
My recipe is another take on the classic Greek and it carries along a fresh Aegean breeze in my memory, as I first tasted it in Sifnos island last summer. Sifnos is a less known Greek destination, very close to Piraeus port and Milos. It's ideal for a cruise or a boat getaway during the weekend. Wanna know the best part? Sifnos is considered the food capital of Greece, as the father of modern Greek cuisine Nikolaos Tselementes was born and raised on the island.
No wonder why I loved everything about this heavenly place, including this Greek salad with mizithra cheese. Mizithra is a Greek hard cheese, but in Sifnos, the locals produce their very own soft version. Its texture makes it ideal for dips, spreads, and salads – obviously. Did I mention it merely takes 15 minutes to make your very own Greek salad at home? Please, DO try this at home, folks and let me know how it worked out for you!
Greek Salad Recipe, Sifnos Style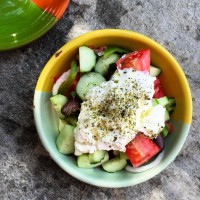 Print recipe
Greek Salad Recipe
Greek salad is the most famous salad of Greek cuisine. Vibrant tomatoes, cucumber, olive oil, feta cheese and fresh aromatic herbs are the key ingredients for this Greek salad recipe.
Ingredients
4

large tomatoes

cut in rectangular pieces

1

cucumber

peeled and chopped

1

small red onion

cut in thin slices

1

small green bell pepper

cut in thin slices

1

tsp

dried oregano

1

tbsp

capers

100

gr.

Sifnos mizithra cheese

3-4

tbsp

Greek extra virgin olive oil
Instructions
Place all ingredients in a large bowl and combine. Taste for saltiness and if needed add salt (mizithra cheese is already salted, so I find absolutely no need to add more). Serve in a salad bowl along with crusty artisanal bread to taste all these beautiful juices!