London's latest and greatest Greek food spot comes in the form of Streek Greek. Walking in its front door in Fulham, you'll see an intimate and cozy dining area, designed to reflect the concept of street food with a taste of home.
The food is inspired by none other than the famous pita wrap, known as souvlaki. Here you'll try it in numerous variations; from inspired vegetarian options to delightful chicken and pork. If you pop in for something light, the serving size is very generous. Looking at the menu, there is a richness of ingredients found with every dish. The names of the dishes are inspired by the ancient Greek gods, while vibrant packaging and overall aesthetics wink at you. There is a freshness in the presentation at Streek Greek and it's charming.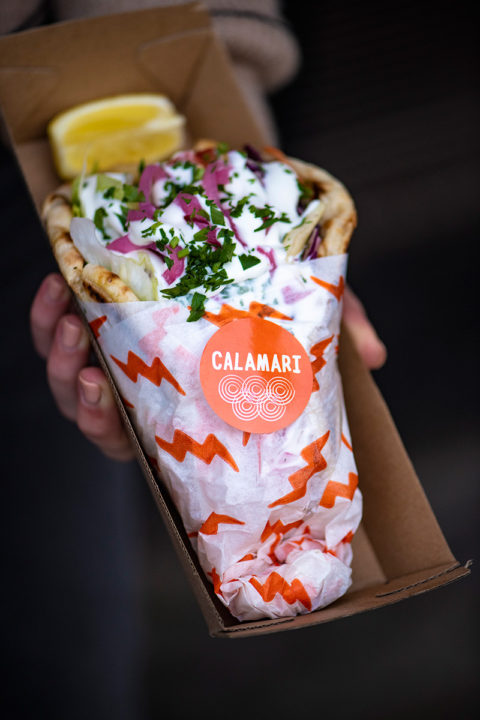 Greek gods seem to be the source of inspiration for every dish. Sides by Aphrodite, kalamaki skewers by Hercules, pita wraps by Zeus only to name a few. I liked the Pegasus with grilled pork, Aegean slaw, truffle aioli, chips, and pickled red onion. The Achillies (pun intended) with spicy BBQ pulled jackfruit was a wonderful surprise that appeals to vegans. The calamari wrap was very original – can't remember the last time I had tasty seafood wrapped in pita before that. For the sides, I'd recommend the Greek chips with feta sauce and the popcorn halloumi – both options had excellent texture and made the perfect bite.
My only regret is leaving without trying the dessert (for the mains came in generous portions, which was another bonus point). Next time! For now, I can say, with hand on heart, Street Greek is one to watch. With more locations coming up in central London, I'll be back for seconds and thirds.
Street Greek Fulham 49 Fulham Broadway, Fulham, London SW6 1AE
Street Greek Covent Garden49 Bedford St, Covent Garden, London WC2E 9HA