Keftedes recipe, the meze you're gonna love! A traditional Greek recipe, gorgeously flavored with red onion, fresh parsley, wild spearmint, and always a hint of dried oregano.
Keftedes, the famous Greek meatballs, are a sure crowd pleaser when served in meze platters. Every ouzeri in Greece makes their version of keftedakia. Every cook has their very own special recipe for keftedes. One with ouzo, one with wine, one with tomato, one with lamb meat, one with no meat! For the latter, we'll catch up on another post.
This Greek meatballs recipe makes keftedes crispy on the outside and tender on the outside. Serve them as an appetizer, with tzatziki, pita bread, french fries (or chips, if in the UK), and Greek salad.
Now, some tips for savvy cooks who want to master this authentic Greek recipe.
Start with the kind of meat that is right for this recipe.
In this keftedes recipe, I use mixed minced meat – half beef, half pork. You can make your own meat mix, depending on your preferences and personal taste. I once made keftedes with 1/3 beef, 1/3 pork and 1/3 lamb. Lamb is not the typical kind of protein in Greek cuisine. However, Greek restaurants around the world serve it in many different "authentic" versions. Let me tell you it couldn't be further than the truth. Nevertheless, it does make a more fatty and rich meatball, and that's why I recommend it for this recipe.
Check out my recipe for Greek roasted chicken with potatoes (kotopoulo me patates sto fourno)
Time to knead the keftedes.
Yes, kneading can be a burden. But kneading meat is super easy and shouldn't require more than 5-6 minutes of your precious time. Use your hands and mix all the ingredients very well, until incorporated.
How to make tender keftedes
If you want your meatballs to turn out fluffy and tender, add vinegar and grated onion. Grated red onion provides a fabulous flavor base as well as making these meatballs gorgeously juicy. Vinegar softens the meat and allows to easily absorb all other flavors.
Use as many herbs as you can!
The divine flavorings are from herbs. Every time I make this keftedes recipe, my kitchen is filled with fresh aromas. Use fresh parsley, dill, spearmint, basil, mint, thyme, rosemary. Anything green will do the trick. Oh, and dried oregano of course. Wouldn't be Greek if there wasn't oregano in it!
The single ingredient for fluffy keftedes
It's the breadcrumbs! You can also use bread, better yet sourdough bread. Avoid freshly baked breads with chewy texture, unless you want stiff, hard to bite keftedes.
Why put the keftedes in the fridge?
Chilled meat is easier to knead. Plus, all the beautiful aromas blend together even better when cooled. It also retains the round metaball shape when cooked.
The secret to a crunchy crust
Crispy meatballs are a miracle in this world. The only way to achieve it is by mastering the art of deep frying. I always use sunflower oil when frying, as it has a higher smoking point than olive oil. It also provides a golden color that no-one can resist. Remember not to overcrowd the keftedes in the pan, so they can all be evenly cooked.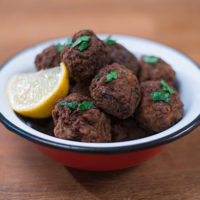 Print recipe
Keftedes Recipe (Greek Meatballs)
Keftedes! An all-star keftedes recipe, crispy on the outside, juicy on the inside. Packed with rich flavors and aromas, serve this keftedes recipe as a gorgeous meze.
Ingredients
500

g. / 1.1 lb

minced meat

half beef, half pork

5

tbsp

breadcrumbs

1

onion

grated

1/3

white vinegar

1

egg

1

tsp

oregano

dried

1

tbsp

spearmint

dried

1

tbsp

parsley

chopped

1

tbsp

dill

diced

salt

fresh ground pepper

sunflower oil to fry

all-purpose flour to coat
Instructions
In a large bowl, add the minced meat with the white vinegar. Mix until well blended.

Add the breadcrumbs, onion, egg, herbs, salt, and fresh ground pepper.

Use your hands to mix well for a few minutes until the mixture is quite smooth and very well combined.

Refrigerate for 1 hour. This makes the keftedes easier to roll and helps retain round shape when cooking.

Measure out even amounts of minced meat, then roll into round meatballs.

Heat the sunflower oil in a large, deep frying skillet pan. Use enough oil to cover the surface of the pan.

Dredge meatballs lightly in flour, shaking off if excess. Then place in the skillet. Cook in batches, for 3-4 minutes, rolling over, until beautifully browned on both sides.

Remove from pan and transfer on a plate lined with paper to absorb excess oil.

Serve in a meze platter while still warm.
Video