It's a great day when a new Greek restaurant opens up in town. There is something exceptional about this concept. I believe it does not only have to do with spreading the Greek cuisine, but it rather makes a point. It's showing the world that there are Greeks who dare, who are productive and ambitious enough to enter a huge market like the London restaurant scene. It's time to show Londoners that Greek restaurants are, well, nothing like hummus and kebabs, and I am very happy to see remarkable venues like Ergon popping up.
I've been a fan of this trending Greek brand ever since they opened at their first location, right behind Selfridge's. I wrote about their pop-up shop a year ago and here I am again to tell you about their whole new concept at Maddox Street, just a few steps away from Regent Street. They are doing things differently this time, and it's obvious why it soon became a steki (a meeting place to hang out in Greek).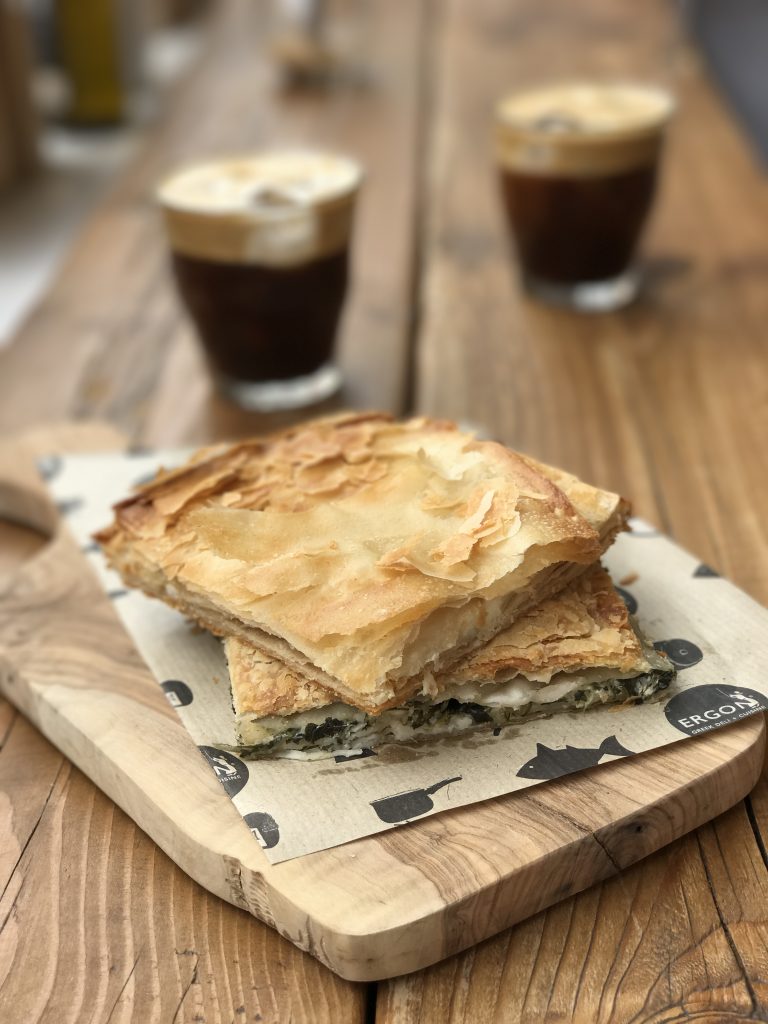 Greek casual and comfort food, good specialty coffee, and carefully selected deli products from all over Greece is the standard at Ergon. Mousakas and pastitsio, the flagships of Greek comfort food consisting of layers of vegetables, pasta, aromatic beef and béchamel sauce, are the sure way to have an appetizing lunch. The chef prepares on a daily basis their specials, which vary from soutzoukakia (meatballs baked in tomato sauce with spices), briam (Greek style ratatouille) and gyro wraps. Greek savory and sweet pies are still their things, so don't leave without trying a piece of spanakopita (spinach pie) or bougatsa (vanilla custard pie). I particularly love their sesame koulouri served with Greek yogurt and a poached egg.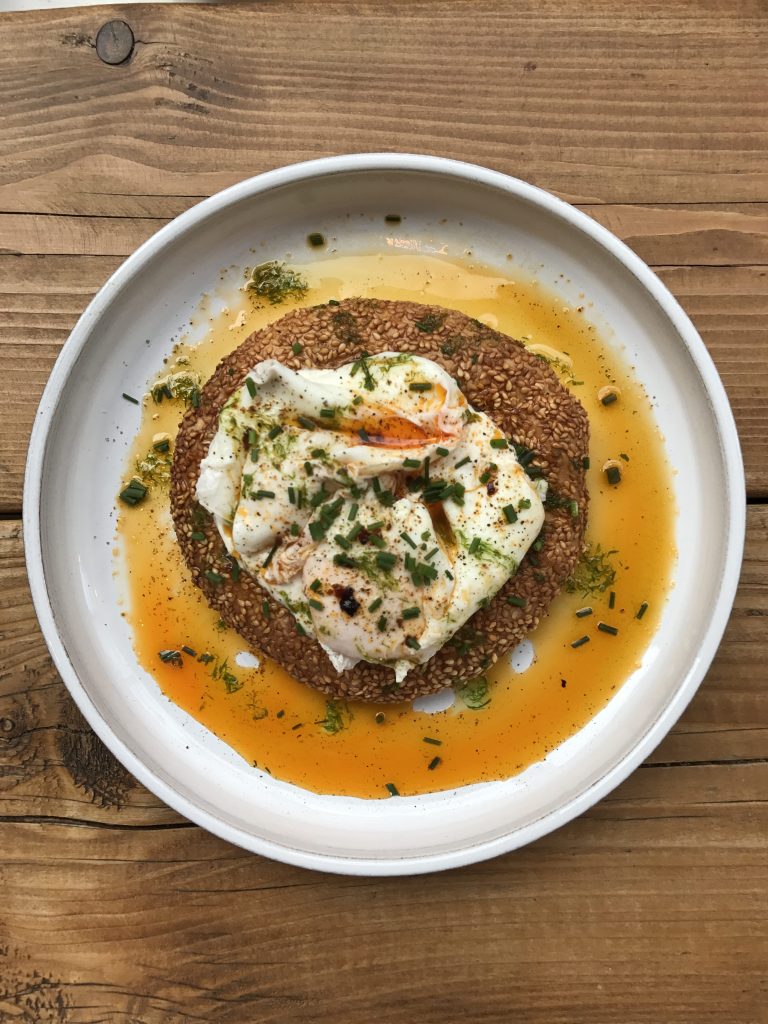 If you ask a Greek why they would go to Ergon, the answer would be freddo. As Italian as it may sound, freddo is an iced coffee preparation invented by Greeks and it can either be freddo espresso or freddo cappuccino. This summer, the weather in London was crazy – from melting 38oC to winter temperatures in a few hours. During the heatwave of July, iced coffee was massive, so everyone was craving a freddo coffee. It's been so popular, that even Starbucks served freddos this year!
Aside from the food and coffee, the location is very pretty itself. The communal table at the back is beautifully lighted from the ceiling window and it's ideal for lunch breaks. I also enjoy sitting by the front window, where I have my morning bougatsa with freddo espresso while gazing the passers-by from the outside.
"We want to make authentic Greek food for everyone" George Douzis, co-owner, and operator of Ergon told me one of the many times I paid him a visit at the shop. "It's challenging to redefine what the Greek cuisine really is, but we are determined to do it" he added, and I can actually see him achieving it. I also heard from them they have some big news, but I am not the guy to kiss and tell, so bear with them until they announce their new projects.
Ergon London
5 Maddox St, Mayfair, London W1S 2QQ