A proper Greek table is incomplete without tirokafteri. This is the second most iconic Greek dip (after tzatziki, obviously). I can totally understand why. It's spicy, rich in terms of texture thanks to feta and feels so damn velvet that you can't just have a dip in it.
Creamy, cheesy, spicy, it includes the cornerstone ingredient of Greek cuisine: feta cheese. Many people add several types of cheese to their tirokafteri, such as manouri, mizithra and anthotyro. Others prefer it runny by adding some Greek yogurt or buttermilk.  In northern Greece, it's a very popular ingredient in souvlaki (pita wraps).
You can't make a tirokafteri recipe without a spicy agent. Its name means "spicy cheese". Chili peppers, red pepper flakes, spicy paprika can all do the trick. You can use one of these ingredients, or even all of them, depending on how you can tolerate with spicy food.
My recipe for tirokafteri is pretty simple but relies heavily on high-quality ingredients. I always roast red peppers as they bring a deep, smoky flavor. Also, organic Greek olive oil is a prerequisite for all my recipes. But I can't point out enough the importance of feta cheese. Barrel aged feta cheese is a staple I always have in my fridge and makes all the difference in tirokafteri. Barrel aging gives feta a unique flavor. Just like some wines improve with age, so does feta. I always cut it in large chunks and whizz it in the blender just enough to mix it up, without mashing the cheese. Trust me on this one, you need this tirokafteri recipe in your life!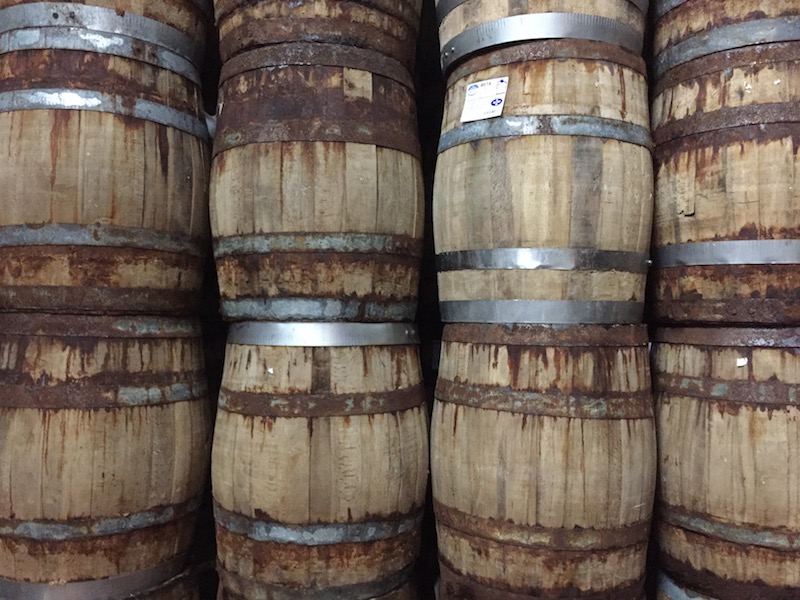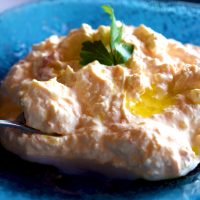 Print recipe
Tirokafteri Recipe (Greek feta dip)
Tirokafteri is a Greek feta dip. Creamy, cheesy, spicy, this version includes sweet roasted peppers and is a crowd-pleaser.
Ingredients
3

red peppers

washed

1/2

cup

organic Greek olive oil

1

tbsp

white wine vinegar

500

g.

feta cheese

cut into large chunks

2

tbsp

Greek yogurt

1

tsp

red pepper flakes
Instructions
Place the peppers on a baking tray lined with parchment paper. Roast for five minutes in preheated oven at 180oC / 356oF / Gas mark 4. Carefully remove the skin (wearing gloves) and cut them in chunks.

Add peppers, organic Greek olive oil and white wine vinegar in blender. Whizz for 1 minute until smooth. Add feta cheese, Greek yogurt and red pepper flakes and beat for 2 more minutes until creamy. Transfer to a bowl and cover with plastic wrap. Place in the fridge for 1 hour to set.

Serve as meze with toasted bread, pita, flatbread or french fries.