If you're looking for a delicious, super easy and extremely aromatic Greek dessert, look no further than portokalopita, also known as Greek orange phyllo cake. This portokalopita recipe is bonkers good!
There is a thing about Greek summer that one cannot easily describe, especially if they haven't experienced it themselves. It's much more than a stop from the daily routine, while it certainly entails so much more than laying on some Greek island sandy beach from dusk till dawn. A great deal is about food (you knew I was going to say that, right?!)
I guess I let myself get too excited with homespun cooking, delicious Greek mama food, feasts with family, fishing with friends and eating all these glorious meals; as a result, this blog post probably lost its way. Nevertheless, now that summer vacation is over, I had this idea of sharing one of my absolutely favorite Greek desserts. Portokalopita!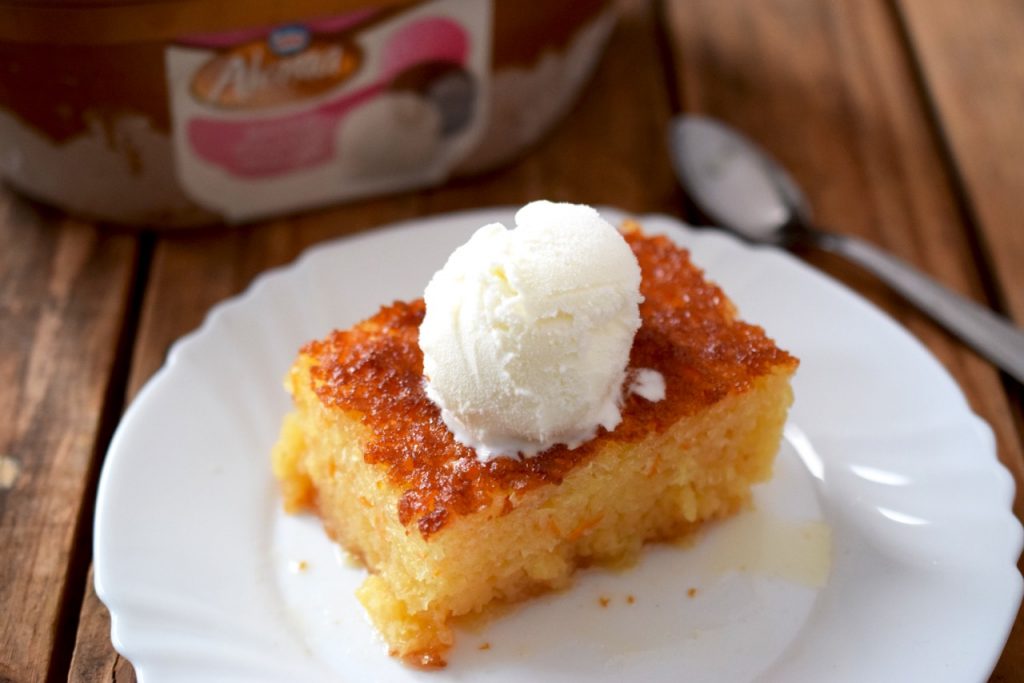 Portokalopita is a Greek orange phyllo cake and mega hit during the summer when you serve it with a scoop of ice cream. It's crispy, syrupy, orange-y, and finger-licking good. Consequently, this portokalopita recipe has density you can't beat. Deep-golden crust on top, custardy, with a thick texture this sweet citrusy concoction is bonkers good. Seriously, guys, you need to try this asap. I've also made a video about my portokalopita recipe. It's currently in Greek but I'm working on subtitles right now. Check it out below!
Last but not least, let me thank the lovely folks at Pappas Post for sharing this recipe the previous days. Greg, you are the best!
Print recipe
Greek Portokalopita (Syrupy Orange Cake)
Portokalopita, also known as Greek orange phyllo cake, is

a delicious, super easy and extremely aromatic Greek dessert.
Ingredients
500

g.

16 oz phyllo sheets

4

big eggs

preferably organic

200

g./ 1 cup sugar

2

oranges

zest

300

g.

/ 1 ¼ cup Greek yogurt

2

tsp.

vanilla extract

1

tsp.

baking powder

200

ml

/ 1 cup plus 2 tbsp. sunflower oil
For the syrup:
200

g.

1 cup sugar

1 ½

cup

lukewarm water

2

oranges

juice

1

cinnamon stick
Instructions
Preheat the oven to 180oC / gas 4 / 350oF.

Remove the phyllo sheets from package and shred into ½ inch pieces, using a knife or your hands.

Grease a round baking dish or cake tin with sunflower oil.

Combine the eggs with the sugar in a large bowl. Beat with a hand mixer until pale and frothy. Add the orange zest, Greek yogurt, vanilla extract and baking powder. Beat on medium speed until well combined. Slowly add the sunflower oil and beat again. Stir in the phyllo sheets gradually whisking each time with a spatula, until fully incorporated.

Pour mixture into prepared dish and bake for 50 – 55 minutes.

In a saucepan, bring sugar, water, orange juice and cinnamon stick to a boil over medium heat, for 2 minutes; remove from heat. Pour the hot syrup over the cold portokalopita or vice versa. Set aside for 1 hour until the syrup has soaked in. Slice and serve.
What do you think about my portokalopita recipe? Let me know your thoughts in the comments below!