Tiropita recipe, also known as Greek cheese pie. For Greeks, a slice of tiropita is the equivalent of a bagel in New York or a baguette in Paris. It's the ultimate breakfast, especially when accompanied by chocolate milk (tiropita and Milko, anyone?) Bakeries in Greece tend to sell out by noon as they are extremely popular for people at any age.
However, as everyone seems to have almost zero time to cook, making tiropita at home is kind of a luxury for those living in cities like Athens. This is not the case for the lucky ones who live in the province. In fact, there are many types of tiropita, depending on the ingredient or a particular Greek region.
Traditional Greek tiropita, the one they make in the villages, asks for handmade phyllo. This requires special skill and is considered by many as a family legacy, passed from one generation to another. As you can imagine, it takes tons of time to prepare and, it's so worth it. I use store-bought rustic phyllo, to make my life easier – and yours, obviously.
Some interesting variations of tiropita are kaseropita, where kaseri cheese is the main ingredient; spanakotiropita where cheese meets with spinach; and zamponotiropita, a combination of mild cheese, ham and tomato sauce (not a very traditional thing, but extremely popular in Greek bakeries).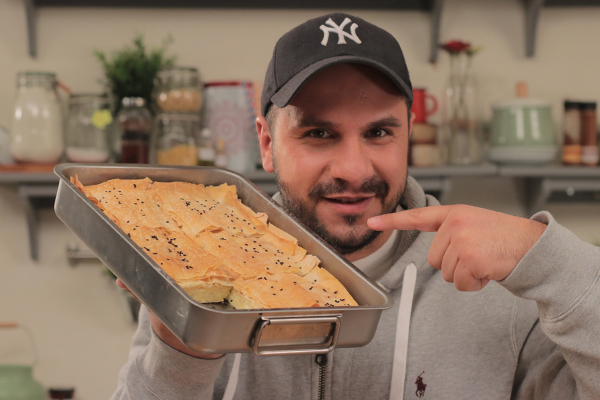 You can also play with the shape of tiropita. In triangles, spiral-shaped, round or rectangular – trust me, it's all good. As a matter of fact, in the region of Epirus, where women are super famous pie makers, tiropita, like any other kind of pita, are served as the main dish.
My tiropita recipe is totally foolproof. My biggest tip is to sprinkle each phyllo sheet with oil, so when the pita bakes in the oven, the phyllo layers can properly rise and get really crunchy. Want some easy ideas to enhance your tiropita recipe? Add some herb to it, such as dill, mint or parsley. Mix different kinds of cheese, like feta, anthotiro, kaseri, graviera cheese or even grated parmesan. Spice it up with freshly grated nutmeg or black pepper. Just bear in mind that tiropita is a humble dish and requires good quality ingredients in order to be a success.
Now, make sure to watch my video for the tiropita recipe. When making a pie, it's so much easier to see the process rather that read it, but I've also added the tiropita recipe below, so you can print it for your collection.
How do you like your tiropita? Let me know if you make it in the comments below!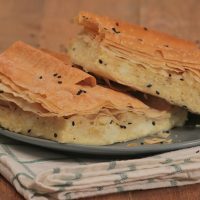 Print recipe
Tiropita Recipe
Tiropita is a flaky Greek phyllo pie, filled with a scrumptious cheese mixture. Enjoy this savory pie recipe for breakfast or lunch.
Ingredients
6

sheets of rustic phyllo pastry

3

large organic eggs

beaten

500

g

feta cheese

crumbled (17.5 ounces)

200

g

grated graviera cheese

7 ounces

1/2

cup

full fat milk

freshly ground pepper

freshy ground nutmeg

1/4

cup

olive oil

a dash of water

sesame seeds

optional
Instructions
Prepare the filling for the tiropita. The traditional tiropita recipe calls for feta cheese. In a large bowl, add the eggs, feta cheese and kaseri. Using a fork, crumble the feta and incorporatee all ingredients. Add the milk. Season with fresh ground pepper and freshly grated nutmeg. Blend well until mixture is rich and well incorporated. Put the mixture aside.

For this tiropita recipe you will need a 30 cm / 12 inches baking pan. With a pastry brush, grease the bottom and sides of the pan. Place one sheet of phyllo at the bottom of the pan and with the brush sprinkle some olive oil. Repeat the procedure with another two layers of phyllo sheets for the bottom of the tiropita.

Pour in the feta cheese mixture and smooth with a spatula. Use a knife to trim the four edges of the overhanging phyllo. Roll the excess phyllo inside the pan, covering the mixture.

Top the tiropita with the rest of phyllo sheets. Make sure to oil each one, before adding the other. Brush the top with oil, sprinkle with water and sesame seeds. Scar the top phyllo with a sharp knife.

Bake the tiropita in a preheated oven at 170oC for approximately one hour, until the phyllo is crisp and golden. Let it cool down for a while before serving.
Notes
I make this Greek tiropita recipe with store-bought phyllo dough. As it's usually frozen, I thaw it for 24 hours in the fridge. Sometimes, especially in the winter, it can take longer than 24 hours to be completely thawed, so be very careful with it!